Jigsaw Man by Elena Forbes
Summary
DI Mark Tartaglia spends a night in a west London hotel with a woman he has just met. When he is called out to the same hotel the next morning to investigate a murder, he realises it must have taken place while he was there. If things weren't already complicated enough, the investigation takes a new and horrifying turn when he recognises the young female victim.
Still reeling from the shock, he learns that another case he has been investigating - the body of a homeless man found in a burnt-out car - is also not what it seems. Tests reveal that the corpse has been assembled from the body parts of four different people.
Under mounting pressure from the media and unsure where his loyalties lie, Tartaglia must solve this new macabre puzzle before the Jigsaw Killer strikes again.
Read an exclusive extract of Jigsaw Man
Publication date 01 January 2015
---
Hardback
Now available at:
---
Audiobook
Now available at:
Paperback
Available 6th August 2015
---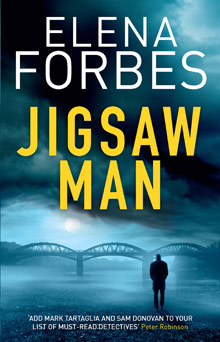 Published by Quercus
ISBN-10: 1849163391
ISBN-13: 978-1849163392